Steven Johnson discusses how collective environments help contribute to and foster great ideas and creativity, thereby discrediting the idea that great ideas happen simply in one moment of genius by an individual working alone.
If your team is trying variations of the same approach, Daniel Pink will encourage you to try something new. He emphasizes the power of intrinsic motivation to produce meaningful work.
Onora O'Neil argues that building trust is cliché. What we need instead is trustworthiness. Watch this video for a lesson on what it means to trust intelligently.
Using examples such as Apple and Martin Luther King, Jr., Simon Sinek introduces a simple, yet immensely powerful model for inspirational leadership. Sinek tells us that "eople don't buy what you do, they buy why you do it."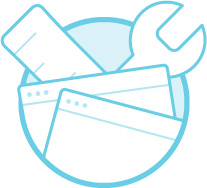 We hope this helps, but just so you know- we're still building additional resources for you! Keep checking back.